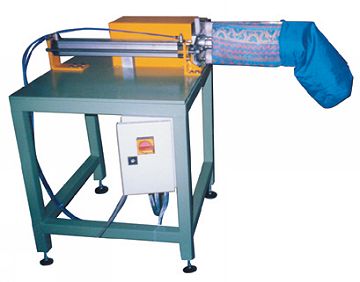 ARROTOLATORE PER TRAPUNTE,
SACCHI A PELO E CUSCINI
mod. BM102
Un bordo del cuscino, o della trapunta debitamente piegata, vengono inseriti manualmente tra le pinze della macchina. Attraverso l'uso di una pedaliera il cuscino viene poi arrotolato su se stesso portandolo ad un diametro pari a quello della culla di avvolgimento.
Terminata la fase di arrotolatura l'operatore inserisce la federa, o il sacco di confezionamente, sulla culla. Ad operazione completata, sempre attraverso l'uso di una pedaliera che attiva uno spingitore, si procede all'espulsione del cuscino all'interno del proprio sacco.
La dimensione della culla di avvolgimento può variare in funzione delle caratteristiche del cuscino o della trapunta da avvolgere.
Dati tecnici
u Lunghezza = 1350 mm
u Larghezza = 800 mm
u Altezza = 1300 mm
ROLL MACHINE FOR QUILT,
SLEEPING BAGS AND PILLOWS
mod. BM102
The pillows end or the quilt end are manually inserted among the machinery's pliers. By using a control pedal the pillow is rolled-up on itself until it reach the dimension of the winding cradle.
At the end of the rolling phase the operator insert the pillow-cases, or the bag to package the quilt, on the cradle. After that by using the control pedal you activate a thrust system that allow you to expel the pillow or the quilt inside its bag.
The dimension of the winding cradle can change as a function of the characteristic of the pillows or the quilt that you have to roll.
Technical data
u Length = 1350 mm
u Width = 800 mm
u Height = 1300 mm
u Pneumatic power = 6 bar
u Electric power = 380 Vs 50 Hzes